Pierre Texier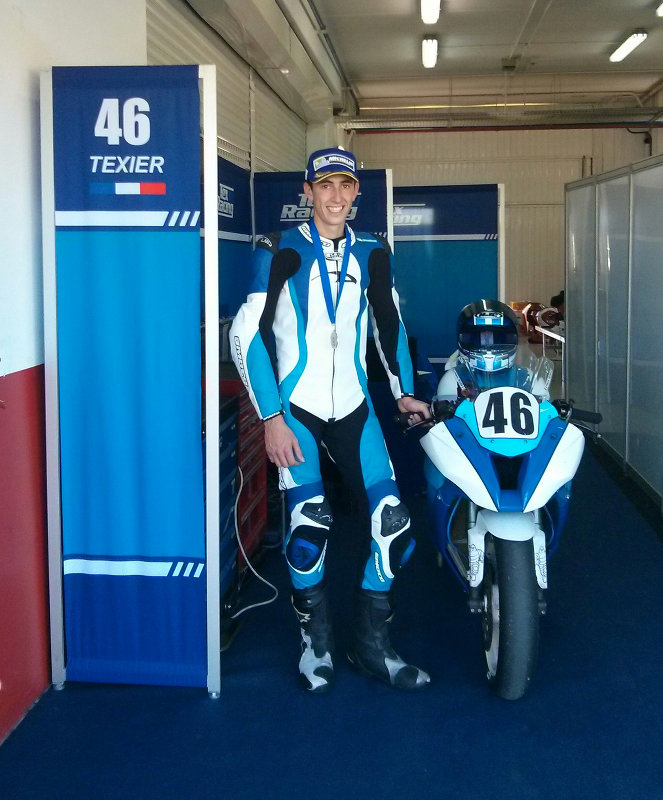 A young French rider at the European top.
Birth: 24th November 1993 in Bordeaux France
Height: 1,85 m
Weight: 68 Kg
Job: Cabinetmaker of Art and Contemporary Furniture
Race number: 46
An unusual path at this level of competition.
In 2009, Pierre's parents bought their first road racing motorcycle, a 2004 Yamaha R6. Pierre was then 15 years old, the minimum age in France to ride in 600cc. So they all share this bike and set off to discover french circuits as their favourite leisure. Without knowing that a great adventure just started! Indeed, Pierre grew awfully fast, its adaptability and its performance where amazing!
So that as early as 2010, Pierre participates in a few regional races and wins his first victory in the Aquitaine League Championship under a heavy rain with an unprepared and aging motorcycle. These encouraging results support the whole family in the idea of participating in a full season of competition.
Pierre is therefore registered in 2011 Michelin Power Cup in the 600cc category on a 2009 Yamaha R6, with the technical assistance from his parents. This category is very popular with 80 riders and 11 races on the program; Pierre is the youngest and continues to improove throughout the season; he climbs in the standings after each race, is consistently on the podium at mid-season and gets his first victory at Ledenon. His results are beyond expectations, the Family Team had relied on a top 10 at season's end, only Pierre had predicted a top 5. This is done since he ended this first season in 5th rank with the title of best Rookie (1st year competition licence).
Thus, given this progress in some races and on the advice of David Sciberras, Dominique Sarron, Cyril Huvier (H2S), and Philippe Gonod (MPC) Pierre moves to a higher level championship for 2012: the french Superbike championship 600 Pirelli Trophy, a category for young under 25 riders. He remained two consecutive years in this category. With many podiums, a double victory at Lédenon, but also a heavy crash at Le Vigeant while leading the race, he ranked 5th in the 2013 season. The obvious conclusion of this season is that Pierre is actually handicapped by its heigth and shall not continue to ride in 600cc. Indeed although its steering allow it to compensate the technical parts and win on circuits such as Ledenon, the long straights disadvantage enormously unable to hide completely in his shroud.
Thus the family team takes the decision to move into the above category, the 1000cc and leave the french championship to join the famous spanish championship (CEV Repsol) in Superbike, a new toughest challenge yet!
It is this time on a Kawasaki ZX10R with Michelin tires that Pierre, always accompanied by his parents for technical assistance, will discover many things for this 2014 season: new bike, new circuits, new championship... This season is a learning year in which Pierre, as usual progresses throughout to finish 20th overall and 12th in privateers rider category. For 2015, we take the same and start again with higher ambitions this time, and the season starts strongly with a podium at Portimao! Unfortunately a crash in Navarra will make him lose the head of privateers and the championship 5th place overall. So it will end this season as privateer Vice European Champion and 6th overall. A very good performance for the smallest team from the paddock!
In 2016, the FIM CEV Repsol European Championship is really a statement and very well organized championship, the team will continue the adventure with the brand new Kawasaki ZX10R!
History so far
2009: Discovery of road racing motorcycle (Yamaha R6) at 15 (minimum age)
Leisure riding in France
2010: Training riding in France and Spain
Winner of local league race in Merignac (first race)
2011: Michelin Power Cup Championship - 600cc
5th in general standing
Best young rider
Top Rookie (Beginner - 1st year competition licence)
Fastest lap and victory at Lédenon

2012: French Superbike Championship - 600 Pirelli Trophy
15th in general standing
12th in junior ranking (< 20 years old)
2013: French Superbike Championship - 600 Pirelli Trophy
5th in general standing
Double victory at Lédenon
Circuit record at Nogaro
2014: Spanish Road Racing ​​Championship - CEV Repsol - Superbike 1000cc
20th in general standing
12th in privateer category
2015: European Superbike Championship - FIM CEV Repsol - Superbike 1000cc
6th in general the standing
European Vice-Champion in privateer category
2016: European Superbike Championship - FIM CEV Repsol - Superbike 1000cc
5th in general the standing